Welcome to Hideaway Lodge
You'll Feel Better Here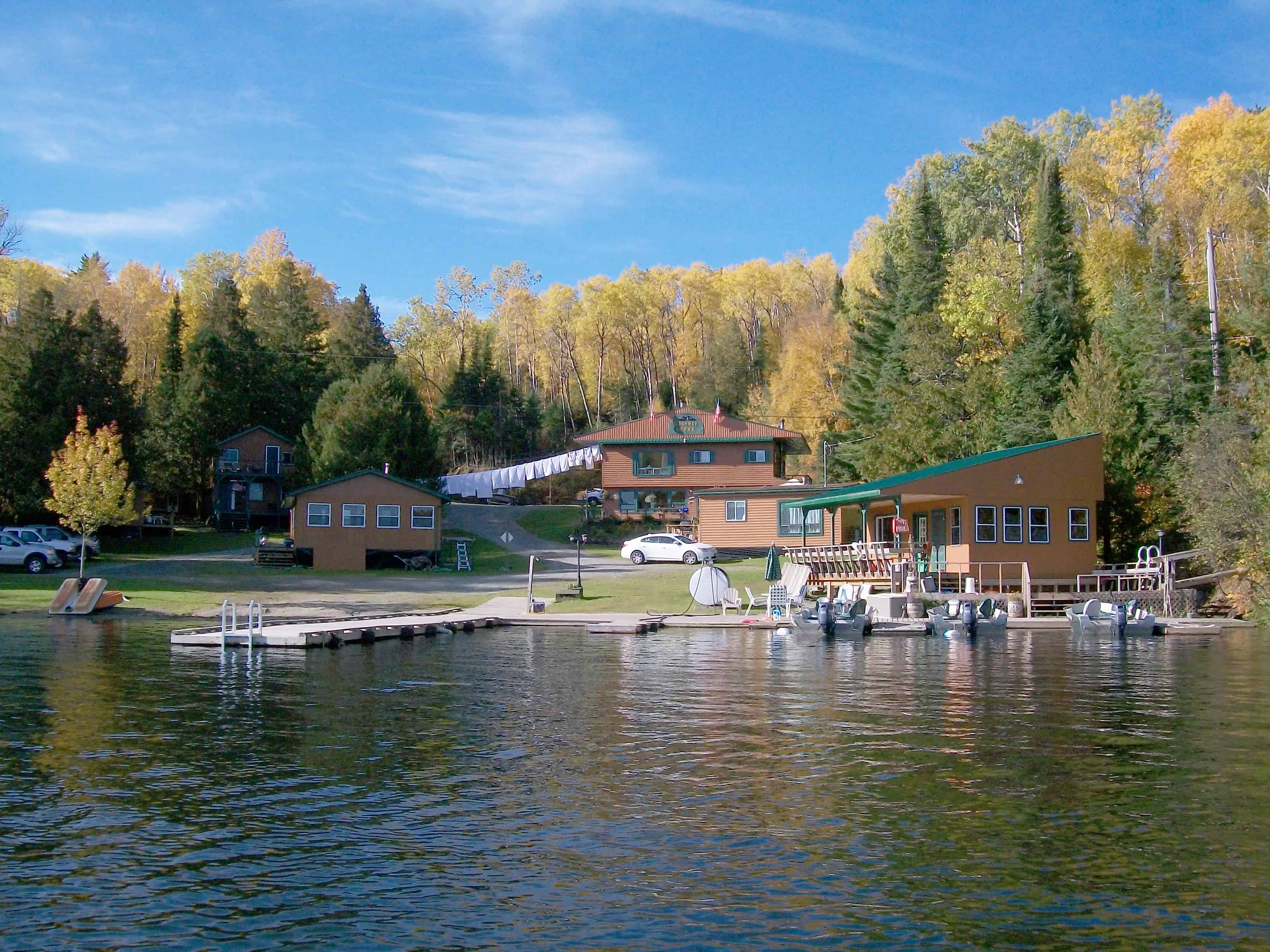 Hideaway Lodge Welcomes You With
Seventy miles of water to explore
Exceptional fishing
Cozy cabins on Clearwater Lake and beyond
On-site boat and equipment rental
Experienced guides
Home cooked meals
A friendly and easy-going atmosphere
You Hooked? Reserve Your Cabin Today!
Do you suffer from

"fissues?"

Join us on Clearwater Lake for some Canadian therapy! Located on one of the

best drive-in fishing

lakes in Ontario,

Hideaway Lodge

is your gateway to

over 70 miles

of Northwestern Ontario fishing adventures.
Clearwater-Pipestone Chain of Lakes
An unsurpassed Canadian wilderness fishery
The sheer number of lakes makes Northwestern Ontario fishing some of the best in the world. Clearwater Lake stands out from the rest for its excellent smallmouth, walleye, and muskie fishing. But it is the entire Clearwater- Pipestone Chain of Lakes that brings anglers to Hideaway Lodge year after year. The Clearwater-Pipestone Chain of Lakes consists of 11 lakes and over 70 miles of water. All eleven lakes are accessible by boat, and together offer some of the best walleye, northern pike, muskie, bass, lake trout, and yellow perch fishing in Ontario.
Cabins
Your retreat after a day on the water
At Hideaway Lodge, we do our best to make sure that after a day of exploring the lakes you can relax and put your feet up. In one of our cozy rental cabins, you'll have plenty of space to enjoy a meal, catch a nap, or take in the beauty of our lakefront setting.
We offer five comfortable and modern lakeside cabins on Clearwater Lake. All accommodations are located on our sprawling lawn with ample parking and plenty of space for boats or trailers.
For those who wish to venture further afield, we also offer two secluded Hideaway Lodge "outposts" that are only accessible by boat or floatplane.
S'mores roasted over the campfire
Trophy muskies caught and released
Perch and bass caught off the dock
Spoons broken because we ran out of drumsticks
Hummingbirds seen by September
Our Lake Toys
The best boats to haul back your catch
Sure, you can bring your own rig and boating gear to the lake. But if you would rather not deal with hooking up the trailer for your trip to Hideaway Lodge, take advantage of our on-site boat rentals. Our boats come equipped with everything you need to get you anywhere on on Clearwater Lake and beyond.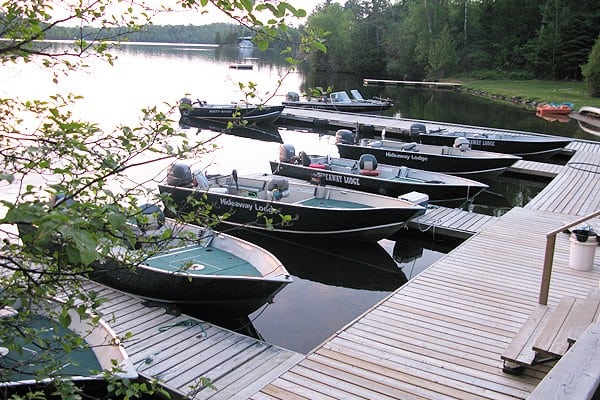 The boat of choice at Hideaway Lodge is the 17′ Lund Outfitter. We have eight on-site and available to rent. The Outfitter model has a wide bow and pedestal seats, making your trips on the water both comfortable and manageable.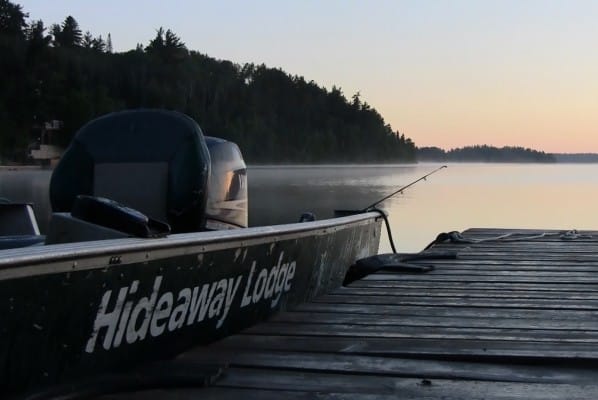 All of our rental boats are equipped with a fish finder, bilge pump, minnow bucket, net, paddles, anchor, and boater safety kit. Don't forget to bring your own life vests! Rental price include five gallons of gas/day.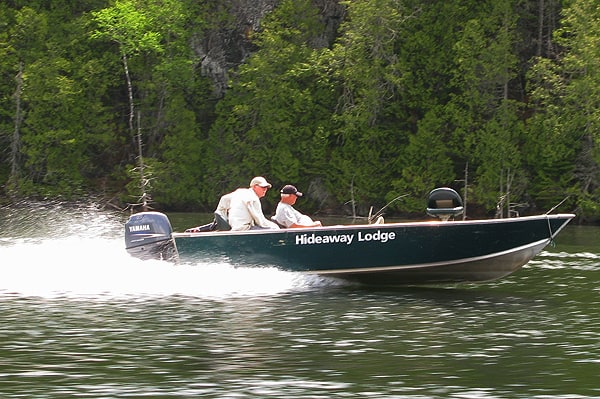 You'll waste no time getting to where the fish are thanks to a 50 horsepower Yamaha motor. The four-stroke outboard allows you to cover a lot of area very quickly- that's a good thing when you have over 70 miles of lake to explore!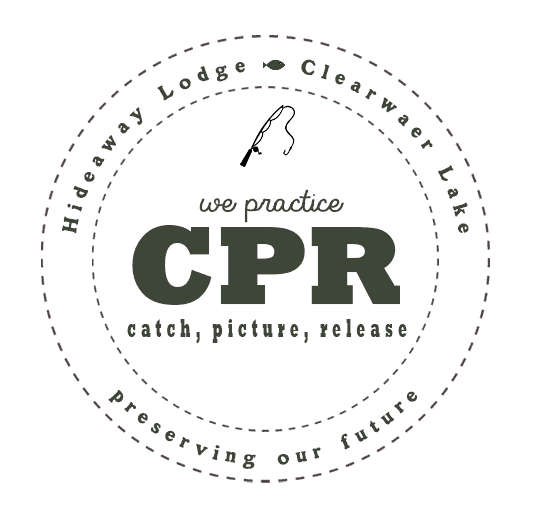 Committed to Conservation
Preserving our resource for future generations
The Clearwater-Pipestone chain of lakes is among the best Northwestern Ontario fishing destinations. And thanks to careful management of the resource, the likelihood of landing a trophy catch in the Clearwater-Pipestone chain is as good today as it was in the past. We promote voluntary catch and release of trophy fish in the Clearwater-Pipestone chain, and we encourage anglers to do everything possible to ensure the fish's survival after the hook is retrieved and the fish is released. A conservation-minded approach to fishing the Clearwater-Pipestone chain allows the fish you catch today grow into the trophies of tomorrow, so please join us in conserving our unique fishery.
Where to find us
On one of the best drive-in fishing lakes in Ontario
Located on a secluded bay on beautiful Clearwater Lake, the Main Camp is only one hour northwest of the International Falls/Fort Francis port of entry.
Driving Directions
From The USA Border
Our Main Camp is located 45 miles north of International Falls, Minnesota. Once you enter Canada, follow #11 Highway (West) about 20 miles, turn on #71 Highway (North) until you get to #615 Highway (East, then turns North), follow the signs which will lead you to our doorstep!
From Winnipeg
On the East side of Kenora, watch for the #71 south signs (Sioux Narrows, Nestor Falls signs) go South, then after Nestor Falls, watch for "Fort Frances 60 kms" sign. Once you see that you come to a village called Finland.
Turn left on Lampi road, go to the stop sign and turn left (you are now on 615). Drive about 15 minutes north, you will come to 2 hairpin turns on Off Lake. About 1/2 mile on the right, you will see Clearwater Lake Road, take it, and veer to the right (do a horseshoe). We are about 1 mile up the road.
Arrivals By Air
No time to drive? Northwest Airlines will bring you right to our door. Pre- arranged Taxi service is available at the airport with City Cab, just call 1-877-664-6222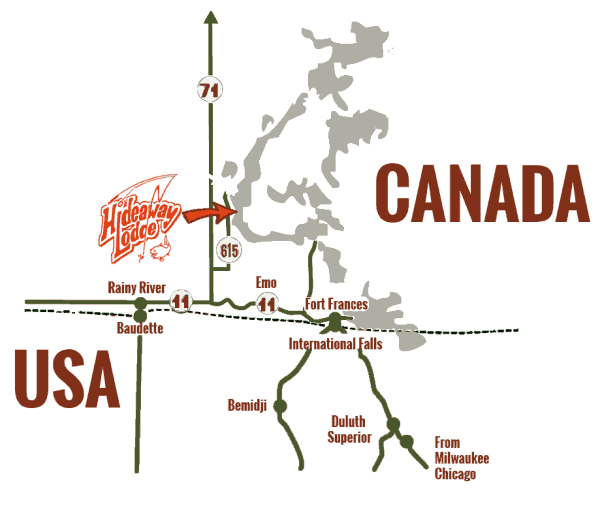 Don't want to book online? Call us to make your reservation!
1 (807) 482-3474