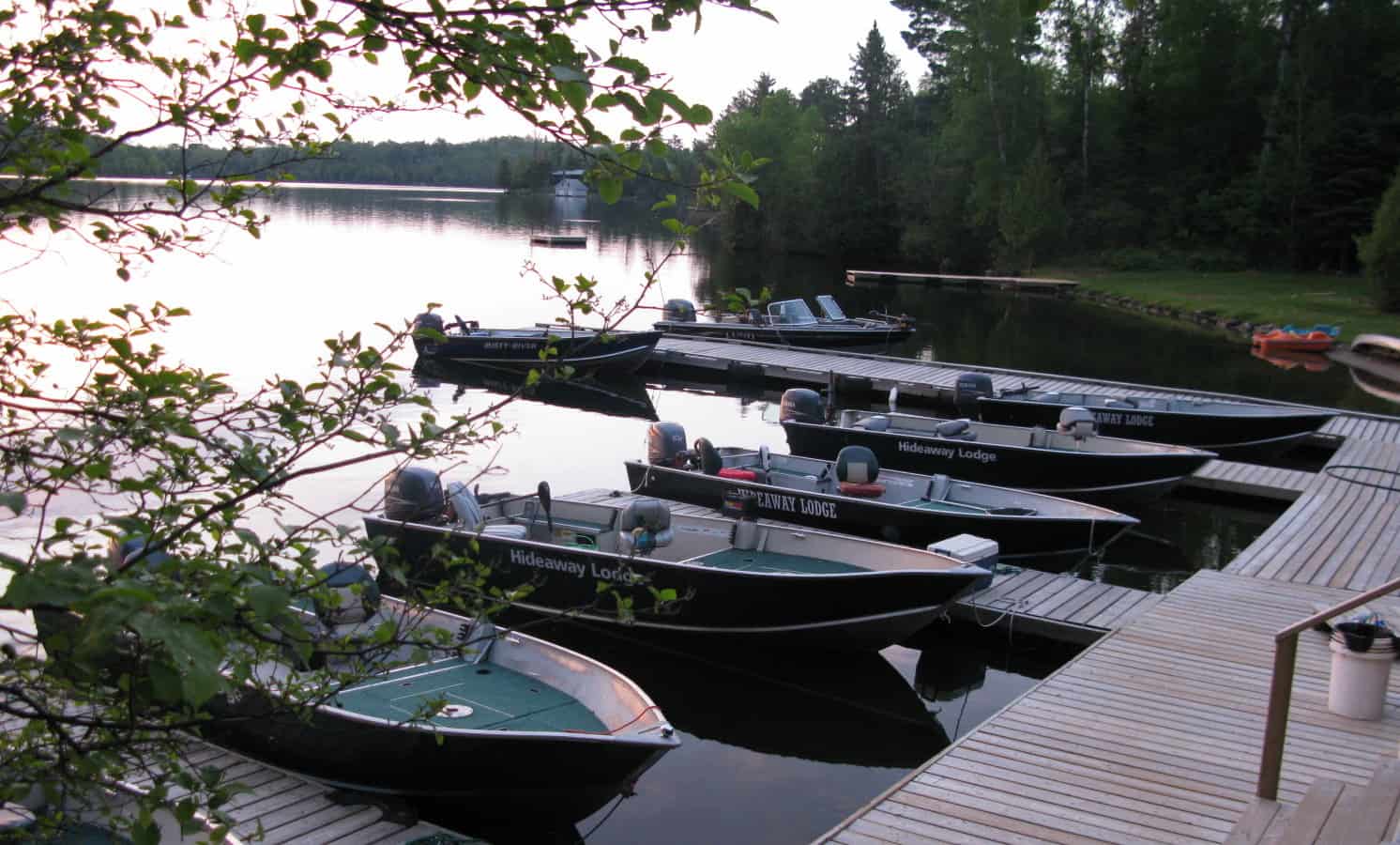 Prices & Packages
From D.I.Y. to All Inclusive
Hideaway Lodge offers prices and packages to meet the needs of almost any angler. You can show up at Hideaway with your boat, R.V., and the family in tow, or you can show up with nothing at all. Either way, we've got you covered.  So whether you want to come for a week or weekend, plan to go it alone or hire a guide, or even if you're just shopping Ontario fishing trips, check out your options below.
Download our 2020 rate sheet HERE
Room rates are based on double occupancy, and all prices are in U.S. Dollars.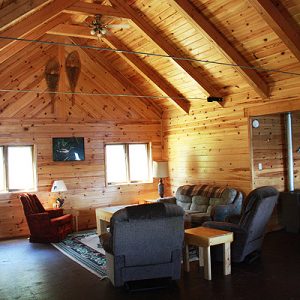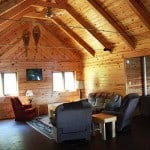 Housekeeping Cabins
Our cabins are equipped so that you can operate exactly as you do at home- no maid service here! Kids 12 and under stay FREE!
Daily Rates
$185/day for double occupancy
$60/day for each additional adult
Weekly Rates
$1202.50/week for double occupancy
$360/week for each additional adult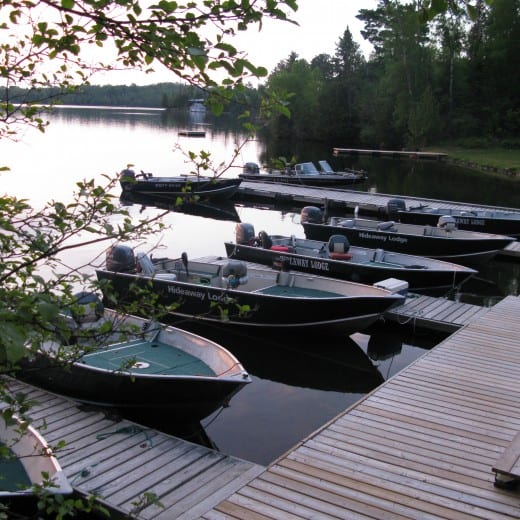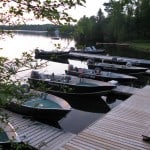 Boat Rentals
Boat rental includes gas, landing net, minnow bucket, paddles, anchor, and boat cushions. Please bring USCGG approved vests for your party.
Daily Rates
$190/day
Weekly Rates
$1140/week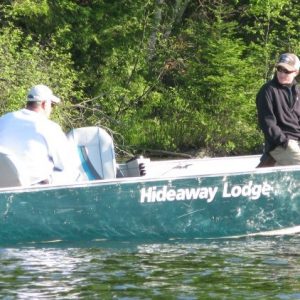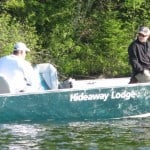 Experienced Guide
Our licensed and experienced guides know where the fish are biting and are a great way to maximize your time on the lake.
Daily Rates
$300/day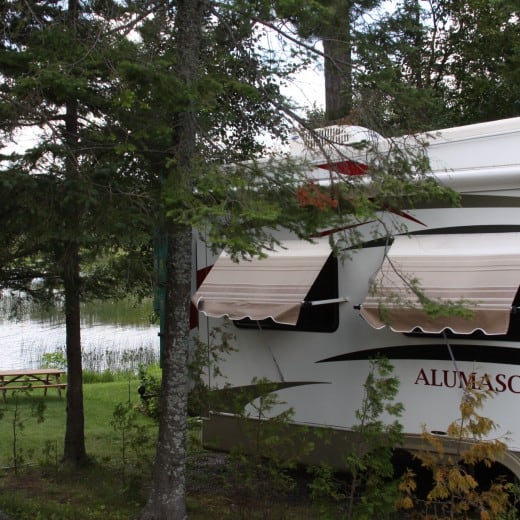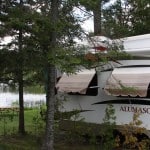 R.V. Sites
No need for lodging when you've got your own cabin on wheels! Sites include 20-amp service, water hookup, and a central shower.
Daily Rates
$80/per day
FISHERMAN'S VACATION
This package is for anglers who want the basics of their fishing trip sorted out before getting to Hideaway. You won't have to worry about accommodation, dockage, or portage details with this package, leaving you plenty of time to plan for the things that really matter- like where you'll fish first. We know how tasty a shore lunch can be, so this package includes only one meal per day at the Lodge.
THE AMERICAN
When our American friends load up the car and make the trip across the border to Hideaway, they tend to show up hungry! With this package, we'll feed you when you get here and feed you right before you leave. And in between, we'll make sure you have everything you need for a successful fishing vacation on the lake.
FULL OUTPOST
The Clearwater-Pipestone chain of lakes offers plenty of room for anglers who want to feel like they're the only one on the water. But if you really want to get away from it all, choose the Hideaway Full Outpost Package. We have outposts on Pipestone and Jackfish lakes- both about 25 miles from the Main Lodge and accessible only by floatplane or boat. For genuine solitude and excellent fishing, our outposts can't be beat. Guided trips to the outposts are available at $220 each way.
Boat into either our Pipestone or Jackfish Lake cabins, both 35 miles from the Main Lodge. Each outpost is fully equipped, renovated, and features solar power
Boat into either our Pipestone or Jackfish Lake cabins, both 35 miles from the Main Lodge. Each outpost is fully equipped, renovated, and features solar power
Boat into either our Pipestone or Jackfish Lake cabins, both 35 miles from the Main Lodge.  Each outpost is fully equipped, renovated, and features solar power.

Package Includes:

outpost cabin lodging, dockage, portage passes, and boat/motor/gas.
TROPHY WHITETAIL HUNT
For many hunters, finding the right place to hunt can be just as challenging as the hunt itself. A hunting location with the perfect balance between isolation and access to everyday conveniences (and of course plenty of whitetail) can be hard to find. We've managed to find the sweet spot between wilderness and convenience at Hideaway Lodge, and we offer a trophy whitetail hunting package that's just as sweet.
Package Includes

Lodging
Three meals per day
Experienced guide
Transportation to and from hunting sites
JULY & AUGUST FAMILY SPECIAL
Not all Ontario fishing trips are family friendly. But in July and August, Hideaway Lodge has families in mind. For the avid anglers in the family, the fishing in July and August is second to none. And for family members who aren't so enthused about baiting hooks, Hideaway has plenty to offer. Hiking, picnics, cliff jumping, and water sports are just a few of the activities at your fingertips. And at the end of the day, the whole family can retire to a comfortable and modern two bedroom cabin.
BED & BREAKFAST SPECIAL
If you are setting off on a fly-out trip with a local charter operator, this package is just for you. Hideaway Lodge offers convenient lodging the night before your fly-out. Come to the Lodge to enjoy the beautiful setting, fill up with a home cooked meal (or two), and spend the night in one of our modern cabins. Best of all, we're just a five minute drive from the airbase in the morning.
Package Includes

Overnight lodging
Your choice of breakfast or supper (for both meals, total cost is $80/person)
Don't Want To Book Online?
Give us a call at 1 (807) 482-3474
Don't worry, you can still make reservations the old-fashioned way. First, give us a call to discuss your reservation. Then, click HERE to download a copy of our rate sheet/reservation request form. Print it, fill it out, and mail it to Hideaway Lodge along with your $150 deposit. You can find our mailing address on the form or at the bottom of this page.
Hideaway Lodge Terms & Conditions
All prices are quoted in U.S. Dollars and include 13% Ontario Harmonized Sales Tax. We do not accept credit cards. We do take cash or traveller's cheques for final payment. A deposit of $150 per person is required to hold reservations. Deposits can be made via personal cheque or PayPal, and a confirmation of deposit will be made via email. Deposits are non-refundable, no exceptions. All parties are charged for full dates reserved.